The many options of air travel to Malaysia.
Like most countries that are well-marked on the world map, air travel to Malaysia is a breeze.

While there's no lack of choices with regular airlines, (which I'm sure you'll have no trouble researching) it's the budget airlines that have taken flying to dizzying heights.


---
NOTE: Skip to Arriving at Malaysian airports if you're not into budget airlines.
---

Highly affordable, the cost of a flight ticket across the continent can now be easily bought with a week's wages earned waiting on tables in a cafe.

That, plus the increasing number of destinations that are being added has made the world a very small place indeed.

Occasionally, you can even score free flight tickets for air travel to Malaysia during the airlines' seasonal promos. Well, actually, free tickets (like free lunches) are not really so because there are these pesky things called fuel surcharges, as well as airport taxes. Still, you can save a pretty penny if you're lucky enough to get them.
Budget airlines -- you just gotta love them. So, if you're a scrooge like me, you'll find the links to budget airlines that fly to Malaysia below very useful:
1. AirAsia

A rags-to-riches story, and made in Malaysia to boot. Now flies to almost all Asian countries within a 4-hour radius. Air Asia loves giving out 'free' flights every now and then; hence their 'Now everyone can fly' tagline.

www.airasia.com

2. Air Asia X
The long-haul version of Air Asia, Air Asia X was launched in November 2007.

Its launch signalled the exciting future of cheap air travel to Malaysia. Even Virgin's Richard Branson is in on the action, holding a 20% stake in this airline.

Air Asia X will eventually fly to cities in Australia, China, India, Middle East, UK and Europe. At the moment, it only flies to Guangzhou, China, and Gold Coast, Australia. and it will be the first low-cost carrier connecting Asia and Europe.

For travellers, this is a very significant development. It means travellers will be able to take advantage of Air Asia's extensive network of destinations within Asia.

Air Asia X recently announced that when they start Kuala Lumpur-London flights on 11 March 2009, it could be as cheap as RM1,200 ($387) for a round trip compared to RM4000+ flying on regular airlines! Major savings indeed.
To celebrate the launch of this historic occasion, Air Asia practically gave away 5,000 seats for just 99 Pounds, about $136!

Note: Air Asia X is accessible from within the Air Asia website
3. Firefly
Also a Malaysian company, Firefly is the budget arm of its world-class big brother, Malaysia Airlines or MAS. Its fleet of Fokkers 50s fly mostly domestic routes, including the remote interior of Sabah and Sarawak.

If you're lucky, you could be sharing a flight with some colourful natives and sometimes, even their poultry as well. Firefly also flies to the Thai destinations of Phuket and Koh Samui.
www.fireflyz.com.my

4. Tiger Airways

Singapore''s budget airline, Tiger Airways operates out of Changi airport to destinations within a 4-hour flying radius. Tiger Airways Australia operates out of Tullamarine, Melbourne, Australia.

www.tigerairways.com


5. Lionair

Indonesia's answer to low-cost air travel. Operates out of Jakarta to over 50 domestic destinations.

www.lionair.co.id


6. Cebu Pacific

Philippine's budget airline, and the 2nd biggest after Philippine Airlines. Operates out of Ninoy Aquino airport, Manila, with a hub at Mactan-Cebu Airport.
www.cebupacificair.com


7. JetStar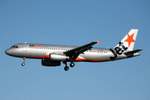 Australia's budget airline, JetStar is owned by Qantas and connects you to more than 20 Australian cities. It makes for a down-under option for air travel to Malaysia.
MALAYSIAN AIRPORTS -- KLIA or LCCT?
Although Malaysia has 6 international airports, it's very likely that you'll be landing at either Kuala Lumpur International Airport (KLIA) or the Low Cost Carrier Terminal (LCCT) if you're flying in on one of the budget airlines mentioned above. LCCT is located within the vicinity of KLIA, more precisely near the air-cargo terminal.

Location of KLIA and LCCT

- To zoom in, click on the plus sign (+), or double-click on the map
- To zoom out, click on the minus (-) sign, or right-double-click on the map
- To see more, click and hold to move the map around

KLIA/LCCT is located about 50km away from the capital city of Kuala Lumpur -- about an hour's drive.
So what are your transport options to Kuala Lumpur?
Taxi
Bus (LCCT only)
KLIA Express (high speed train)

By taxi to Kuala Lumpur
Simply purchase your taxi coupons from the taxi counters and jump into one of the many red-and-white taxis or limos waiting in line outside.

Charges are as low as RM60($19) for a budget taxi, as high as RM90($29) for a premier taxi, and RM130($51) for a family MPV. These are charges are for trips to Kuala Lumpur only.


There is another unofficial mode of transport available. Pirate taxis or 'Sapu' taxis (literally translated from Malay as 'swipe' taxis). The touts/drivers will openly solicit fares. The only difference is that they're usually non-airport approved taxis that have just dropped off its passengers, or private car owners trying to make a few ringgit (normally parked elsewhere to avoid official harassment).


By Bus to Kuala Lumpur
In keeping with the budget-travel theme, buses are only available at LCCT. However, if you arrived at KLIA and you're bent on saving few ringgit, all you have to do is hop on a feeder bus and it will take you to LCCT in just 15 minutes for a mere RM1.50($0.50).
The feeder bus pick-up point is at platform #8 of the KLIA bus station and runs every 20 minutes.


Nadi KLIA Feeder Bus
KLIA to LCCT
Pick-up point: Platform #8, KLIA Bus Station
First trip: 5.30am
Last trip: 12.10 midnight
Fare: RM1.50 ($0.50)


Buses from LCCT
From as low as RM8($2.60), these buses will take you all the way to KL Sentral (the main public transportation hub in KL) from which you can then make your way to any part of the city. Tickets are available at the arrival hall

The good thing about taking the bus from LCCT is that you don't have to wait too long for one. These buses leave LCCT as frequently as every 30 minutes, and not more than an hour during off-peak hours. Operating hours are generally from as early as 4.00am till 1.00am.

Buses operating from LCCT:
1. Skybus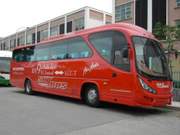 LCCT to: KL Sentral (1hr 15mins)
First trip: 7.15am
Last trip: 12.15am
Frequency: 30mins (peak), 1hr (off-peak)
Fare: RM9 ($2.90)
Website: www.skybus.com.my

Note: If flying Air Asia, you can buy Skybus tickets on board the plane.


2. Star Shuttle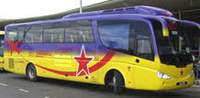 LCCT to: Puduraya (1hr 15mins)
First trip: 6.45am
Last trip: 1.45am
Frequency: 75mins (peak), 2hrs (off-peak)
Fare: RM12 ($3.80)
Website: www.starwira.com (simple website with outdated info)

Note: Puduraya is a very busy, and chaotic, bus terminal. Personally, I try to avoid ending up here, as it's not the most secure place in the city, especially in the early morning hrs.


3. Aerobus
LCCT to: KL Sentral (1hr)
First trip: 6.45am
Last trip: 12.30am
Frequency: 30mins
Fare: RM8 ($2.60)
No website, no fixed telephone contact; only mobile numbers.


KLIA Express - a 28-min non-stop ride to the city at 180kph
Alternatively, you can ride the KLIA Express, a non-stop, high-speed train that will whisk you into Kuala Lumpur (KL Sentral) in just 28 minutes. The ticket counter is located outside the arrival hall. You may also purchase your ticket from a vending machine at the same location (cash, Ringgit only)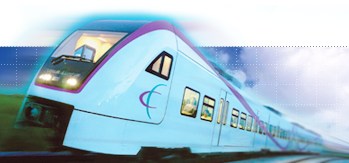 KLIA Express: KLIA to KL Sentral
First trip: 5.00am
Last trip: 12.00am
Frequency: 15 mins (peak), 20 mins (off-peak)
Fare: RM35 ($11.30).
Website:: www.kliaekspres.com
---
Return from this Air Travel to Malaysia page to Travel options

Return from this Air Travel to Malaysia page to



HOME page